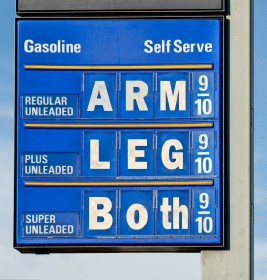 Today as I was passing by a gas station I noticed that my gas which was once at $2.70 A gallon has gone up to $3.15 a gallon and I start wondering why is it that at the hardest times gas prices decided to go up? So I do a little research and it's mostly for two reasons.
The first reason is pure business, the OPEC (Organization of the Petroleum Exporting Countries) which is comprised of Algeria, Angola, Ecuador, Iran, Iraq, Kuwait, Libya, Nigeria, Qatar, Saudi Arabia, United Arab Emirates, and Venezuela have not really been producing more oil since the 1980's so as the population goes up supply and demand takes in effect and prices go up.
The second reason is not so well knows, Oil is priced in U.S dollars so when our currency is doing well prices per barrel are cheaper to purchase but as our economy declines and the value of our dollar lowers then it makes oil cheaper for the rest of the world to buy.
So what happens when they do not produce more oil and other countries start using more oil than normal because it is cheaper? Gas Prices in the United States go up and I'm forced to pay more money per mile, so like a vicious cycle we work in order to have work so we can survive... we need a change and we needed it years ago.